Meet Dr. Julianne Donato-Mason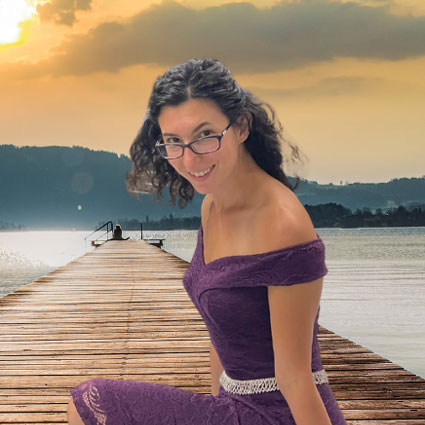 An Early Introduction to Chiropractic
Dr. Julianne Donato-Mason grew up in Stoney Creek, the city in which she had her first experience with Chiropractic at the age of 6. That first fateful visit was a transformative experience in her life. Visits to her Chiropractor, in which she would receive full spine adjustments, were a regular and much-anticipated event for her.
Dr. Donato-Mason was always fascinated with Chiropractic. She knew she wanted to be a Chiropractor at a very early age. Indeed, in her grade 8 yearbook, each graduate was told to answer a very simple question: Most likely to be "_____" when I am older. Her answer was a Chiropractor.
The day Dr. Donato-Mason told her Chiropractor she had been granted an interview for Chiropractic College, they both jumped up and down in her office. Her chiropractor gave her words of advice she will never forget: "never underestimate the power of the adjustment." This statement is what fueled her passion for Chiropractic.
A Memorable Education
While at Canadian Memorial Chiropractic College, Dr. Donato-Mason took her studies very seriously, both inside and outside of the classroom. She wanted to learn all about the power of the adjustment, though it wasn't always an easy road. Due to a range of motion setback caused by an injury when she was only two years old, she was told early on she would not be able to practice as she had once hoped.
Throughout the remainder of her schooling career, she was determined to learn and was enlightened by new adjustment techniques that would allow her to achieve a fulfilling career as a chiropractor. Dr. Donato-Mason is grateful for her experience and is now enjoying her ability to witness the benefits of life-changing chiropractic care in others.
Helping the Helpless
Dr. Donato-Mason finds great reward in helping those in a way they have never been helped before. Not only has she felt the benefits of chiropractic care, but she has also seen it positively impact the lives of many others. She believes everybody is worthy of utmost health, regardless of age or experience, and that this holistic approach to healthcare has something to offer each person that walks through the door.
You do not have to continue living in discomfort. Dr. Donato-Mason is ready to help you live your best life!
Outside the Practice
Dr. Donato-Mason is an active member of the Ohio State Chiropractic Board as well as a Certified Animal Chiropractor and member of the College of Animal Chiropractors.
She loves spending time walking and playing with her dog. Her love for dogs is what motivated her to become qualified in animal chiropractic. When it comes to healing, she is a strong advocate of mind, body, and energy health and practices meditation, frequent weight training, and nutrition-conscious eating. When she can, Dr. Donato-Mason, along with her husband Dr. Matthew Mason, travel to her family's condo in Myrtle Beach to take time for themselves and relax near the water.
Dr. Donato-Mason understands your pain and has the knowledge and expertise to identify a solution that is unique to your condition. Mason Chiropractic & Wellness Center is here to help you reach total health – mind, body, and spirit. There is no better time than now.
I have made it my mission to learn as much as I can about the body's incredible healing power and I hope to serve as many community members as I possibly can by using the principles of Chiropractic.
– Dr. Julianne Donato-Mason
Contact our practice today to book your first appointment.
---
Dr. Julianne Donato-Mason | (330) 219-6250